Name: Golden Pear
Main origin: Jinzhou,Xinji,Shenzhou,Suning in Hebei province
Weight:
Character: White color or green color,Round shape with white and pale green color. Its flesh is tender with milk white color. Its juice is affluent and sweet. The sugar content is approximate to 14%. Small fruit kernel and large edible portion, Top-class quality, 250--350 gram per fruit
Available period: From Sep to next Feb
Package: (1)、10kgs/ctn 44# 40# 36# 32# 28# 24# (2)、15kgs/ctn 60# 54# 48#each wrapped with paper and polythene fruit cap. plastic foam tray inside.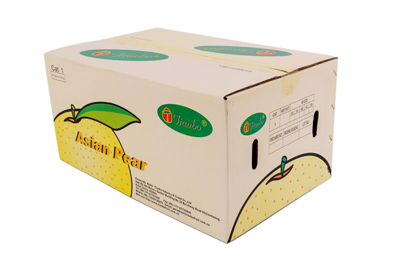 Entered market: Singapore,Malaysia,Thailand, Philippines,Indonesia, Bangladesh, Europe,Australia,Canada,U.A.E.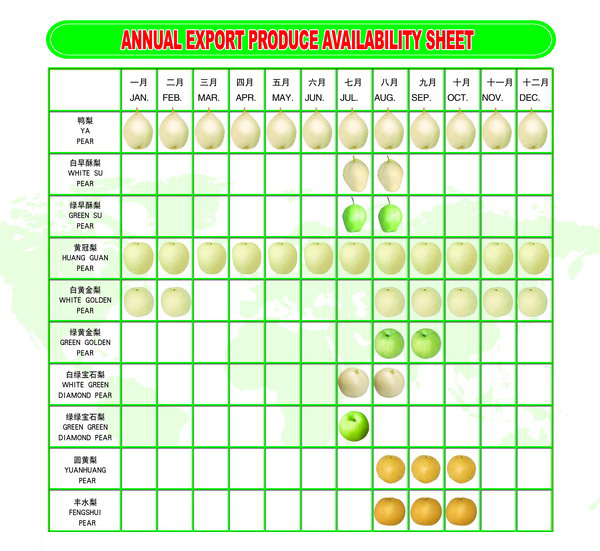 | | | | |
| --- | --- | --- | --- |
| Asia-Pacific | Australia | Sydney | 20-27 |
| | | Brisbane | 20-27 |
| | | Melbourne | 20-27 |
| | New Zealand | Auckland | 22-27 |
| | Bangladesh | Chittagong | 20-24 |
| | India | Bombay | 23-25 |
| | | Nava Shiva | 23-25 |
| | Indonesia | Jakarta | 12-17 |
| | | Belawan | 13-17 |
| | | Surabaya | 13-17 |
| | Malaysia | Kelang | 9-14 |
| | | Penang | 10-14 |
| | | Pasir Gudang | 11-15 |
| | | Kuching | 14-17 |
| | | Sibu | 14-17 |
| | | Kota Kinabaru | 17-21 |
| | | Sandakan | 17-21 |
| | Philippines | Manila N & S Harbor | 10-12 |
| | Singapore | Singapore | 8-11 |
| | Sri Lanka | Colombo | 14-20 |
| | Thailand | Bangkok | 12-15 |
| | | Laem Chabang | 12-15 |
| Europe | United Kingdom | Southampton | 28-30 |
| | | Flixstowe | 28-30 |
| | Belgium | Antwerp | 28-30 |
| | France | Le Havre | 28-30 |
| | Germany | Hamburg | 28-30 |
| | Netherlands | Rotterdam | 28-30 |
| | Russia | St. Petersburg | 38-42 |
| | Sweden | Stockholm | 34-42 |
| N. America | USA | New York | 26-33 |
| | | Long Beach | 20-28 |
| | | Oakland | 20-28 |
| | Canada | Vancouver | 20-28 |
| | | Toronto | 24-30 |
| Middle-East | Kuwait | Kuwait | 22-26 |
| | Saudi Arabia | Dammam | 22-26 |
| | | Jeddah | 22-26 |
| | United Arab Emirates | Dubai | 22-26 |
| Africa | Morocco | Casablanca | 24-32 |